Pink Magazine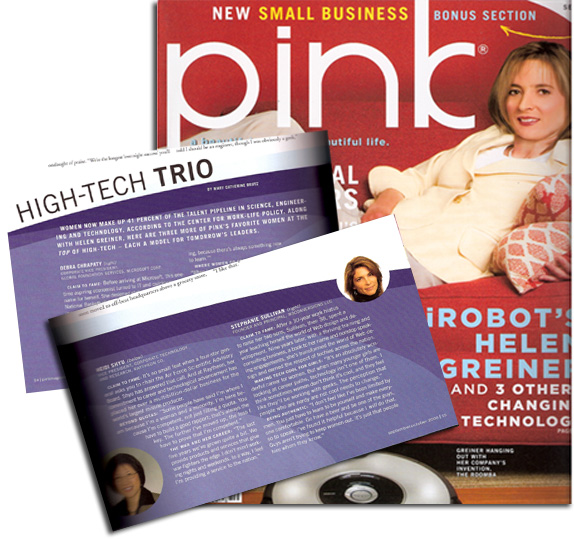 Pink Magazine, Sep/Oct 2008 Issue contains an article on iRobot's Helen Greiner and 3 others changing technology.
High-Tech Trio
Claim to Fame: After a 10-year work hiatus to raise her two sons, Sullivan, then 38, spent a year teaching herself the world of Web design and development. Nine years later, with a thriving training and consulting business, a book to her name and nonstop speaking engagements, she's transformed the world of Web design and earned the respect of techies across the nation.
Making Tech Cool for Girls: "It's an absolutely wonderful career for women. But when many younger girls are looking at career paths, techology isn't one of them. I think sometimes women don't think it's cool, and they feel like they'll be working with geeks. The perception that people who are nerdy are not cool needs to change."
Being Authentic: "I don't feel like I've been limited by men. You just have to learn to be yourself and make everyone comfortable. Go have a beer and be one of the guys, so to speak. I've found it helpful because I will do that. Guys aren't trying to keep women out. It's just that people hire those they know."
View more "Seen Elsewhere" articles and interviews.